Bowling Against Bullies
Please join us for a fun night of bowling at Snow Bowl Steamboat on Friday March 10th, 2023 for our very first Bowling Against Bullies tournament!
This event will help us raise money for our youth programs and will be in honor of Gina Toothaker, whose passion was our "It Takes Courage" program for the Middle School. This event will be for ages 21+. Get your tickets now!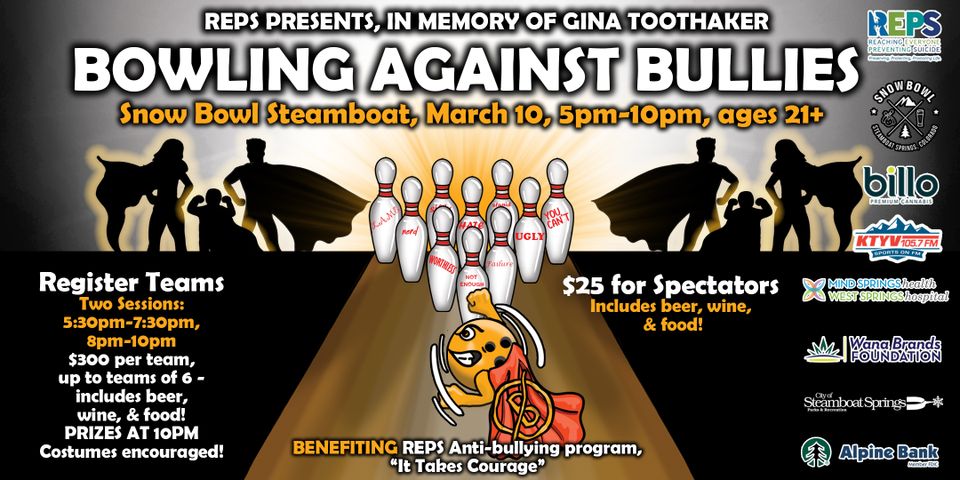 Jan 20, 2023 | MTN Mornings: Steamboat Update
July 17, 2022 | Deaths by suicide in 2021 hit peak again in Routt County
Sep 13, 2021 | Letter: 8 suicides occurred this year in Yampa Valley; REPS launches endowment fund to provide support for community
Aug 29, 2021|The Longevity Project, Part 1: Suicide is preventable
1 hour could make the difference between life and death
Dec 7, 2022 | Donating to local nonprofits 'more important than ever' this Yampa Valley Gives Day, set for Tuesday
Dec 7, 2020 | Hang in there: Impact of mental health challenges is wide, but so are resources to help
Sep 19, 2020 | REPs helps with access to multiple local resources!
Jun 9, 2020 | Colorado Group Realty launches matching donation campaign
Apr 13, 2020 | Steamboat Pilot & Today: Local Resources Available
Apr 12, 2020 | Colorado OFFICE OF SUICIDE PREVENTION- Resources and Tips during the COVID-19 pandemic
Mar 15, 2020 | 'Man Therapy' Uses Bingo To Help Prevent Suicides
Sep 30, 2019 | ASIST training coming soon!
We are holding another ASIST Training on November 8th and 9th at UC Health. Interested individuals can contact Mindy Marriott to register at 970-846-8182 or repssteamboat@gmail.com